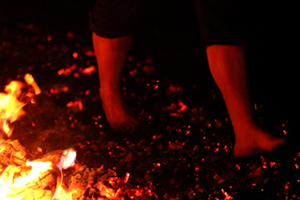 Purchase Tickets for Sacred Firewalking—Advanced September 22, 2018:
Sacred Firewalking—Advanced
Experience the CONNECTION ...

September 22, 2017
5 to 10 p.m. at Sisters of Solace, Westport MA
MORE DETAILS COMING SOON!

Please note:
• You must be 18 or older to attend this event.
• Professional photography during the firewalk is exclusively provided by Alexandria Mauck Photography.
• The event is scheduled to conclude at 10 p.m., but may last longer depending on the weather conditions of that evening. Please plan accordingly.
• Firewalking is entirely optional. Even if you choose not to firewalk, it is profoundly transformational to watch others cross the coals without being burned.
• There are a limited number of non-refundable tickets available—purchase yours well in advance to ensure your space in this transformational experience.
If you prefer to make payment by check please send check payable to:
Kerry Cudmore
PO Box N237
Westport, MA 02790
Please note that tickets are available on a first come first served basis.
If tickets are already sold out your payment will be returned to you.