Spiritual Finance Class Series
Transform your core relationship with money in this interactive class series. (Everyone automatically receives a full scholarship!)

Spiritual Finance Advanced Community
For Spiritual Finance graduates—providing ongoing support, while expanding upon the Spiritual Finance core concepts. (Take your Spiritual Finance experience to the next level!)
The Spiritual Finance Initiative
Changing our individual and collective relationship with money ...
Providing the Spiritual Finance experience to hundreds of people. (Over $99,000 in scholarships have been awarded since 2008!)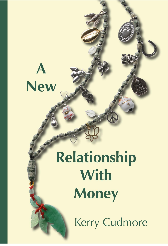 "The Spiritual Finance class has had a powerful impact on my entire life. I believe that this has been the most impactful class/seminar I have ever taken. It has taken me from being unaware to a place of awareness. Everything has changed! Thank you Kerry for sharing this information with those of us who are ready."